Question
Is this Disease Contagious?
Yes - Always --> No - Never --> Yes - Only with extensive touching
==========================================
Scroll down for answer
==========================================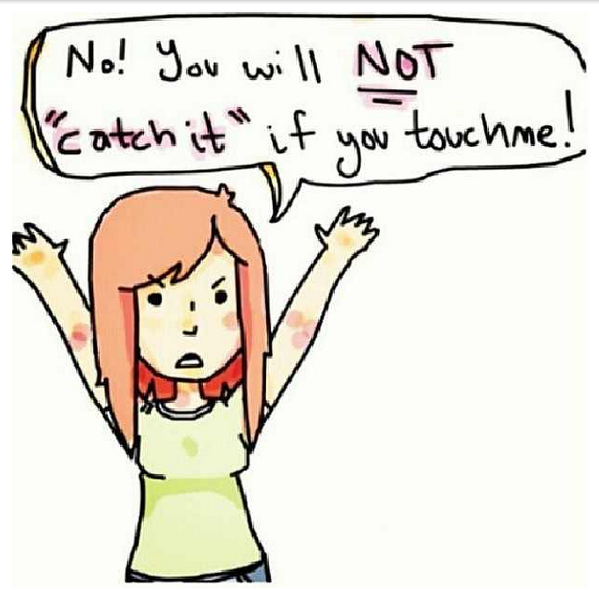 The pictured skin condition of psoriasis isn't contagious, but awareness is. It's a good thing.
If we can learn the precise pathophysiology of the immune mediated disease psoriasis we can aim to develop therapies to treat the cause of the disease.
This webpage might be useful for anyone seeking to learn more about psoriasis. Please leave your comments and feedback so I can improve the page. Thank you kindly.
Cause of Psoriasis, better known as "causes of Psoriasis".
This website claims that if we better understand psoriasis, we might be able to design drugs to fix the "broken" parts of the system. For example, if I membrane protein has the wrong amino acid and the protein does its job too well, never stopping, we could try to make a drug that blocks that protein. The human body is composed of numerous biochemical systems. In psoriasis, it isn't simply one membrane protein that is overreacting... Psoriasis isn't one disease.... There are probably multiple different "changes" in any of thousands of proteins that lead to the disease. Alone, any single mutation has not been shown to cause psoriasis like some other disease. However, it is suspected that there is a combination of mutations variations, and environmental alterations that results in the manifestation of an overactive immune system with flaking of the skin as defined by the term Psoriasis.
My Amazon Book Reviews for Derm
Fitzpatrick's Color Atlas and Synopsis of Clinical Dermatology: Sixth Edition (Fitzpatrick's Color Atlas & Synopsis of Clinical Dermatology) by Klaus Wolff, Richard Johnson
Dermatology: 2-Volume Set: Expert Consult Premium Edition - Enhanced Online Features and Print, 3e (Bolognia, Dermatology) by Jean L. Bolognia MD, Joseph L. Jorizzo MD, Julie V. Schaffer MD
Dermatology DDX Deck, 2e by Thomas P. Habif MD, James L. Campbell Jr. MD MS, M. Shane Chapman MD, James G. H. Dinulos MD, Kathryn A. Zug MD
Hurwitz Clinical Pediatric Dermatology: A Textbook of Skin Disorders of Childhood and Adolescence (Expert Consult: Online and Print), 4e by Amy S Paller, Anthony J. Mancini MD
Prediction about BlockBuster Psoriasis Med Approval.
Have you seen the Phase II article by NEJM on #Brodalumab,
some other hopefuls are #ixekizumab
http://www.nejm.org/doi/full/10.1056/NEJMoa1109017
Brodalumab will be approved by May 1, 2014 for #Psoriasis
Links to Psoriasis websites:
1. http://www.psoriasis.org
2. http://www.psoriasis.com
3. http://www.rwjuh.edu/health_information/adult_derm_psoria.html
4. http://www.ncbi.nlm.nih.gov/pubmed/22278173
5. http://umm.edu/health/medical/altmed/condition/psoriasis
6. http://www.med.nyu.edu/sacu/clinics/psoriasis.html
7. http://www.nejm.org/doi/full/10.1056/NEJMra0804595
Learn more about DrSocial. Watch our presentation.
This post was edited by DrSocial Admin at June 7, 2015 9:44:18 AM PDT